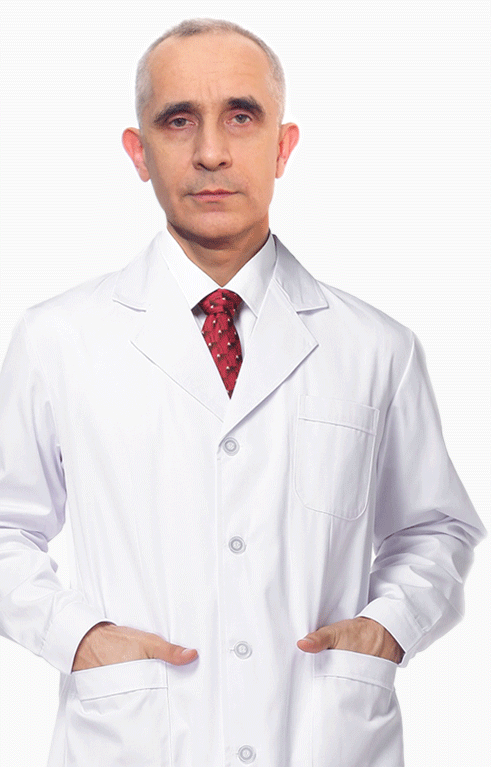 SHORTLY ABOUT MYSELF
A. I. Manzhura
For more than 25 years of practical activity in the field of urology, andrology and venereology, i received, examined and treated several tens of thousands of patients with various manifestations of stds, their early and late complications, in the form of inflammatory diseases of the genitourinary organs in both men and women.
Male and female infertility, miscarriage up to 12 weeks, ectopic pregnancy, early diagnosis of benign and malignant diseases of the genitourinary organs, urolithiasis, organization of surgical interventions, lithotripsy (contact and distance), preoperative examination and postoperative management of patients are the main directions in my work.
The use of advanced venereal (causal) methods for detecting stds allows you to accurately and quickly establish the cause of this or that disease, and to maximize the effectiveness of treatment with minimal time and financial costs. early diagnosis of benign and malignant diseases of the genitourinary organs contributes to the maximum effectiveness of their treatment.
1983 - 1989
KMI them. acad. Bogomolets OO
Medical faculty, medical business
1997 - 1999
Internship in urology KMAPE
2015
pecialization in ultrasound diagnostics at NMAPE
1997 - 1999
Doctor urologist Starokiivskogo TMO
2002 - 2009
Urologist
Vitox Medical Center, Vitalmed
2002 - Present
Urologist-andrologist, doctor of ultrasound diagnostics
Branches №2 - KNP KDC of Shevchenkivskyi district
Honey. Center "Alpha - Clinic", st. Chubynskoho 8
Honey. Vemar Center, 16 Bazhana Ave
«Dievo» - the center of surgical solutions ", st. Broozhka 112/40
WHY IS THIS IMPORTANT TO YOU?
- discomfort, pain, or cramps when urinating
- back pain, lower abdomen or perineum
- itching in the urethra or on the glans penis
- changes in the color of urine, the appearance of blood in the urine
- anemia, unnecessary weight loss, and fever
- injuries to the lumbar region, groin, or perineum
- discharge from the urethra
- plaque on the head of the penis, the appearance of a fishy odor
- problems and difficulty urinating
- premature ejaculation, decreased potency, male infertility
- medical examination once a year (even in the absence of complaints), regardless of age, because many urological diseases are asymptomatic
My partners and I can solve most of your problems in the field of urology, andrology, venereology, reproductive medicine, obstetrics, and gynecology
You need and can be healthy.